Arts and Crafts Recipe: Sugar Paste (glue)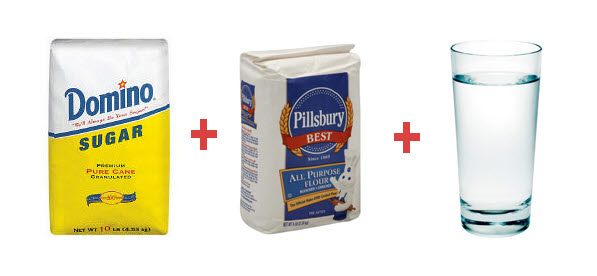 LANGUAGE:
English

LEVEL:
Pre-K +

TIME:
Less than 30 Minutes

DIFICULTY LEVEL:
Easy

CLEANUP:
Easy

RECYCLING:
No
Tired of buying tons and tons of glue and paste for your child's art projects? Have I got a deal for you! Here is an easy craft's recipe to make your own glue (paste) using stuff you already have at home! You can use it for collages, art projects and any paper crafts you can think off! It is based on the traditional recipe for sugar paste, try it out!
MATERIALS
2 cups of warm water
1/2 cup of sugar
1/2 a cup of flour
A pot
Spoon
STEP(S):
Mix all ingredients in a pot.
Put the pot in slow heat for about 5-10 minutes and stir it constantly.
(until the mixture has the consistency of soft pudding)
Let it cool before you use it.
CATEGORIES:
Crafts Recipes
,
Children Projects
,
All Arts And Crafts
,
crafts
CREDITSPHOTO BY
Simplekidscrafts.com - Manualidades para Niños
VIDEO BY
www.simplekidscrafts.com
Adult supervision is always required when making crafts with children. Click here to view security tips when making crafts with children.
607